Designarchy's Eco Pawprint Summary:

100% of electricity usage offset in green tags.
a formal sustainability policy in place. See below.

active unsubscription from mailing lists and catalogs
cross country client meetings held via conference calls
a formal waste reduction and recycling in place. See below.
a formal energy conservation policy in place. See below.
a formal eco-preferable purchasing policy in place.
voicing preference to clients on using green printers and recycled substrates for print jobs
Social responsibility: 1% of profits and/or service hours donated to animal welfare and advocacy organizations

a formal and open disclosure of environmental efforts as listed below.

---
Maintenance:
Cleaning agents are eco-friendly such as hydrogen peroxide, white vinegar and baking soda

Recycling of paper and cardboard
Recycling and/or reusing glass, plastic and aluminum
Kitchen supplies only reusable
Filtration system instead of bottled water
---
Solid Waste Reduction & Recycling:
Reduce paper use in at least 5 ways: we do double-sided printing; send clients PDFs instead of paper mockups; reduce font size before printing Word files from clients; use backsides of used paper for notes; invoices sent via email; file sharing via online applications rather than CDs.

Reduce other types of waste in 5 ways: we buy bulk-dispensed soap; refillable writing instruments; reuse paper 3 ways; recycle toner cartridges; reusable dishes, utensils, towels.

Recycle or reuse materials in 5 ways: we recycle or reuse paper; aluminum; plastic; glass; metal in more ways than you care to know ;-) Note: the town I live in has single stream recycling, so all recycling materials go into one bin without the need to sort.

Purchase paper with at least 30% post-consumer content or other recycled-content products or sustainably harvested. Purchase compatible ink cartridges that are ISO 9001 and ISO 14001 certified, which means excellence in environmental standards and third-party certified.
---
Energy Conservation: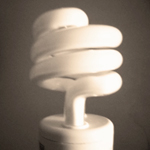 Determine yearly electricity consumption (3,000 KWh) and offset 100% electricity with green tags. You can do it too: http://www.buycleanenergy.org
Implement at least 7 measures to conserve energy: Power down equipment at the end of the day; use equipment and appliances with the Energy Star® logo; replace incandescent bulbs with compact fluorescent lights; workspace takes advantage of natural light; use standby mode on equipment; have double-pane windows, conduct regular maintenance on heaters/air conditioner.
---
Water Conservation:
Low flow aerators and low pressure shower head
Filtration system instead of bottled water
Note: Cannot monitor usage because water bill is included in the rental property. Conservation measures in this case are based on what is available currently in the property.
---
Pollution Prevention:
Prevent pollution in at least 10 ways: we use eco-friendly cleaners, and/or hydrogen peroxide, white vinegar and baking soda for cleaning; use unbleached and/or processed chlorine free, FSC and/or SFI paper products when possible; buy ISO 9001 and ISO 14001 certified ink cartridges; properly store and recycle or dispose of all hazardous wastes; have promotional materials printed on recycled paper using vegetable inks with low-VOC content; do business with other sustainable vendors and services; purchase "green tags" from Blue Star Energy via http://www.buycleanenergy.org to offset 100% of electric usage; reduce vehicle emissions by combining trips, use rechargeable batteries, conduct an annual assessment to identify ways to prevent pollution; purchase paper goods with 30%-50% PCW recycled content and PCF.
---
Design Matters:
Designing with the life cycle of the project in mind; design to minimize the amount of materials needed, such as standard sizes rather than odd-shapes and maximize sheet size; at least half of all projects have less than 30% ink coverage and no bleeds; making sure the end-product is biodegradable or recyclable; minimize frills in the print job such as UV Coating, certain types of lamination, metallic inks and varnishes (except for aqueous coatings and engravings) and coated paper that may interfere with recycling paper; seek printing vendors that adhere to clean operations as well as recycled paper and low-VOC vegetable inks.
---
Production and Manufacture:
All projects are PDF proofed, most of the time even the final Printer's proof as well

All project files are transmitted via online sharing

Environmental messages are printed on half of all pieces produced

Usage of a proofing checklist on all printed projects to reduce reprints due to mistakes
Provide clients with at least one environmentally preferable paper/substrate option per project
---
Social responsibility: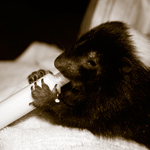 Designarchy currently donates money and service hours to 1 organization that promotes the betterment of people, communities, animal welfare and the environment:
Yggdrasil Urban Wildlife Rescue Center: Dedicated to the rehabilitation of orphaned and injured urban wildlife and education of the public about how to live harmoniously with the cities' wildlife. YUWR assists the city of Oakland and surrounding cities in California. Yggdrasil works quietly under the radar doing truly remarkable work while overcoming many adversities.

In the past, we donated service hours to the following organizations:

• Dharma Publishing: Volunteer-run publisher of Tibetan literature and art, and a major contributor to the Yeshe De Text Preservation Project—the free distribution of ancient Tibetan Sacred texts to tibetans living in exhile. Berkeley, CA

•

Compassionate Cooks

: Dedicated to empowering people to make informed food choices and to debunking myths about vegetarianism through a variety of educational materials and cooking classes. Oakland, CA

•

SFROMP (San Francisco Rescued Orphan Mammal Program)

: This non-profit rehabilitates injured and orphaned native wildlife, such as baby racoons, opossums, skunks and squirrels and re-introduces them back into their environment. Volunteer-run organization in San Francisco, CA.

---
---
Current and Past Certifications

The year of 2015 has brought up some new changes as we've been scaling down our operations due to some health issues. Some certifications that we've held in the past are being discontinued as of 2015. We strongly believe in their message and support their efforts, but we are unable at this time to continue with some financial commitments.
---
Designarchy is a "Re-



nourish



Greener Studio"
Re-nourish
is an online tool advocating awareness and action for sustainable systems thinking in the communication design community. Being a
Re-nourish Greener Studio
means that Designarchy abides by the
Re-nourish Sustainable Standards,
which are not a certification, but instead a logical set of criteria for continued improvement towards a more sustainable economy and future. With this assurance that specific standards have been met and verified, designers, studios, and printers now have the power to demonstrate their sustainability efforts, facilitating the implementation of sustainable practices throughout the industry.
---
---
Designarchy was certified by Green America from 2006-2015

Designarchy was a member of
Green America
(formerly Co-Op America) from 2006-2008. Green America is a non-profit business network of socially and environmentally responsible businesses that promote the connection between green businesses and consumers to forge a more sustainable world. We were screened for our environmental efforts and also for our social responsibility. Designarchy had donated service hours to many organizations that promote the betterment of people, communities, animal welfare and the environment: Compassionate Cooks, Dharma Publishing, SFROMP, Yggdrasil Urban Wildlife Rescue, enrgpath.com and Urban Ambassadors. We still practice sustainability and support their message.
---
Designarchy was certified by Green-e®
Designarchy was certified by
Green-e
, the nation's leading voluntary renewable certification program, for our use of green tags to offset 100% of our electric consumption. This is a third-party program that helps consumers choose green energy alternatives by promotion, education and outreach and verifies that businesses fulfill their claims of green energy consumption.
We still practice sustainability and conservation efforts and support their work.
---
Designarchy was a supporting organization of "Buy Clean Energy2012"

"
Buy Clean Energy 2012
"
was a year-long campaign to spur individuals and organizations to buy clean energy. Nationwide, only 3% of our energy comes from clean sources like wind and solar, and only 2% of people sign up when it's offered by their utility.
---
---


Bay Area's Green Business Program



We were the first certified-green graphic design business in Berkeley (awarded by the
Bay Area's Green Business Program
) from 2006 until 2008, when we moved to Iowa. This certification is site-specific and not transferrable to another state.